Vancouver is well known as not only a global Film & TV production centre, but a top-notch VFX and Animation hub, a robust video games development cluster and home to a surging VR/AR/MR sector. While our industry is occasionally overshadowed by the sheer volume of productions serviced by Vancouver crews, there are nonetheless certain emerging and increasingly prominent industry leaders putting Vancouver on the map as a place of financiers and IP creators. BRON is one such leader, with credits such as the Academy Award-winning Fences, and now in charge of one of Apple's first two TV series.
Brenda Gilbert is co-president and co-founder of BRON and president of BRON Animation. She has been active in film and media initiatives for more than 15 years, and has produced, executive produced, or co-executive produced several productions, including Mighty Mighty Monsters, Henchmen, I Saw the Light, The Birth of a Nation, Monster, and Beatriz at Dinner.
Brenda is a strong proponent of diversity and creating content that normalises powerful women in leadership roles. Between the goings-on of her busy schedule, she sits on the board for Drawn Together Vancouver (DTV) and supports several local filmmaking institutions, including the Vancouver Film School (VFS) and LaSalle College. In many ways, BRON and Brenda exemplify the best of Vancouver and Canadian mindsets: living local and thinking global.
Our own Nancy Basi (Executive Director of the Vancouver Film & Media Centre and co-founder of Drawn Together Vancouver), caught up with Brenda Gilbert when the Brenda was in our offices a few weeks back for the DTV retreat to get a snapshot of BRON in her own words.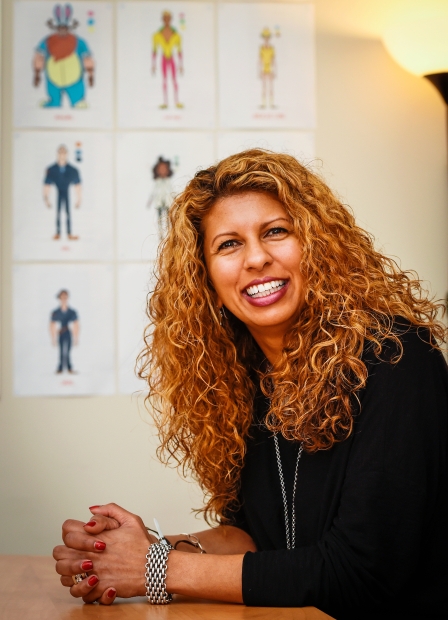 Brenda Gilbert (photo by Vancouver Sun)
What would you say is your typical elevator pitch to others on BRON?
That BRON is an independent film production company and financier for both live action and animation. We also usually get asked about our name: BRON is a portmanteau of the names of the company's co-presidents and -founders, Brenda and Aaron Gilbert.
How about dishing some history on BRON? Do you have a Cliff Notes version?
We incorporated in Sept 2009 and officially launched in Oct 2010. We focused on long-form live-action drama and three animated Mighty Mighty Monsters TV specials – these were our humble beginnings. We have since gone on to produce and executive produce 75 movies. Today, we have a crew of 150 headquartered in Burnaby, with offices and studios in LA, New York, Toronto, London, Ontario and Duncan, BC.
That's quite a lot of growth! What's on your plate right now?
On the animation front, we are in full production on Henchmen and The Willoughbys – both with a star-studded cast. The Willoughbys features Ricky Gervais, who also doubles as executive producer, as well as Will Forte, Maya Rudolph, Martin Short, Terry Crews, Jane Krakowski and Canadian Alessia Cara.
We most recently wrapped on The Front Runner starring Hugh Jackman; in theatres is Roman J. Israel, Esq. with Denzel Washington — incidentally, Denzel has been nominated for a Golden Globe for his performance. Denzel was also in BRON-produced Fences, which won Viola Davis the Oscar for Best Actress in 2017. Needless to say, we were stoked on that and so moved when she mentioned us during her acceptance speech.
I think anyone would be stoked to be mentioned in an Oscar speech! I know there's more, though – what about your recent new venture in L.A.?
We were always intrigued by the deep development of character and story in short form media. We had a great opportunity to collaborate with HBO's former head of drama Michael Ellenberg, whose projects include Game of Thrones, True Detective, and most recently, Big Little Lies. We partnered with him to launch the L.A.-based Media Res film & TV production company.
TV seemed to be the natural progression for us.  The opportunity arose from our first meeting with Michael Ellenberg in October; apparently we all loved each other upon our first meeting and were looking forward to collaborating in the future.
Congratulations are obviously in order for that – and for at least one more thing: BRON now heads one of Apple's very first two green-lit projects. How did this happen?
We're excited! It's a big deal for us!!
There was an intense bidding war for a project based on Brian Stelter's novel Top of the Morning, and Apple won out. We're thrilled to get the green light [from Apple] for our first television venture through BRON/Media Res with Jennifer Aniston and Reese Witherspoon attached.
Most of the filming will take place in L.A., but the financier team led by BRON will be based out of Vancouver, BC.
We know you're a big advocate of diversity and a champion of DTV and for Amplify Her. What do you think is the biggest need for the industry – in relation to diversity?
It is vital to support, empower and mentor women in creative roles and equally important to do the same for women who aspiring to leadership roles. As a Drawn Together Vancouver (DTV) board member and a [Parent Advisory Council] member for Vancouver Film School and La Salle college, I see a lot of up-and-coming talent. As such, I feel we have a responsibility for the content we choose to put out there in order to support female roles and female driven stories. I'd say this is one of my goals or major objectives to push for in the new year.
Looking forward to working on you for that for sure! Speaking of which, do you have any other goals or notable mentions for the new year, Brenda?
Well, next year is a big one for us – BRON will have three films at the Sundance Film Festival for the first time BRON: Assassination Nation, Monster and My Abandonment! I'm looking forward to it.
And so are we! Thanks for your time.
About BRON
BRON STUDIOS is a media and entertainment company focused on the creation, development, production, and financing of motion pictures, television, and digital media content.  To date BRON has been involved in more than 40 productions and has a robust slate of film and television productions in development.  Headquartered in Burnaby, and with offices in Los Angeles, New York and Toronto, BRON has partnered with elite filmmakers and creators; and has solidified a reputation for managing productions efficiently on time and on budget and in an artist-friendly environment. BRON is financially backed by Creative Wealth Media who have a presence in Canada and the United States. BRON was co-founded by Aaron L. Gilbert and Brenda Gilbert in 2010.