If you were to create a short vision statement for the future of Vancouver's economy, what would it be?
A resilient future economy for Vancouver is an economy that is inclusive and diverse, regionally coordinated and communicated, tied to innovation across major public and private institutions, and generates enough wealth for the regional population to feel secure and sustain a high quality of life.
On November 7, 2017, the Vancouver Economic Commission and City of Vancouver's Resilience Team convened a group of private sector stakeholders to develop a collective vision for Vancouver's future economy and identify the issues we must address in order to realize that vision.
Who's Contributing to this Vision?
City Builders
Architecture | Engineering | Urban Design | Green Buildings | Development | Planning | Construction
Solution Providers
Smart Cities | Cleantech | Software Development | Digital Infrastructure | DE&I | Agritech | Biotech
SME Businesses
Retail | Service | Manufacturing | Distribution | Repair | Food | Circular/Waste | Creative
Impact BUSINESSES
Health | Food | Social Employment | Equity & Access | Environment | Tech
Institutions
Educational Institutions | Major Asset Owners | Major Economic Drivers | Utilities
Business Supports
Finance | Banking | Human Resources | Consultancies | Data Visualization | Accelerator
Objectives of the Resilient Future Economy Session
Prioritize economic risks to address throughout the development of Vancouver's Resilient City Strategy
Identify information gaps for making informed economic decisions
Uncover the business leaders that are interested in addressing economic resilience
Create market development opportunities for resilience solution providers
What We Heard
We Asked
WHAT IS THE BIGGEST OPPORTUNITY YOU SEE FOR VANCOUVER'S ECONOMY IN THE NEXT 20 YEARS?

We Asked
WHAT IS THE BIGGEST CHALLENGE YOUR ORGANIZATION IS LIKELY TO ENCOUNTER IN THE NEXT 15 YEARS?

The Findings
Recognizing the future is the culmination of the decisions made today, there are four economic development obstacles we need to overcome. They are:
Addressing the Affordability Issue
Addressing Small Town Thinking
Addressing the Rigidity of our Institutions
Addressing Talent Insecurity
Here are a few of the ways we see our economy and community changing:

1
The Way We Do Business…
will include businesses identifying and working toward a
purpose that extends beyond profits
.
2
The Way We Design the City…
will include the integration of more
deliberate innovation clusters
and technology demonstration projects.
3
The Way We Build…
will include using community data science to
identify and respond to economic risks
before they become crises.
4
The Way We Support People…
will include
healthcare & benefits packages
that are flexible, easily accessible, and responsive to individual needs.
5
The Way We Regulate…
will include
flexible, responsive policies
that are developed and tested through continuous regulatory R&D.
6
The Way We Work…
will include working with and
managing automated systems, vehicles, and robotics
.
7
The Way We Educate…
will include constant
re-skilling at all ages
to ensure they can keep pace with rapid technological changes.
8
The Way We Hire…
will include
proactive integration
of immigrants & refugees, first nations, & women,
all being paid equitable incomes
.
9
The Way We Finance…
will include more
sophisticated partnerships
with the private sector to deliver public infrastructure.

Understand your role in building a Resilient Future Economy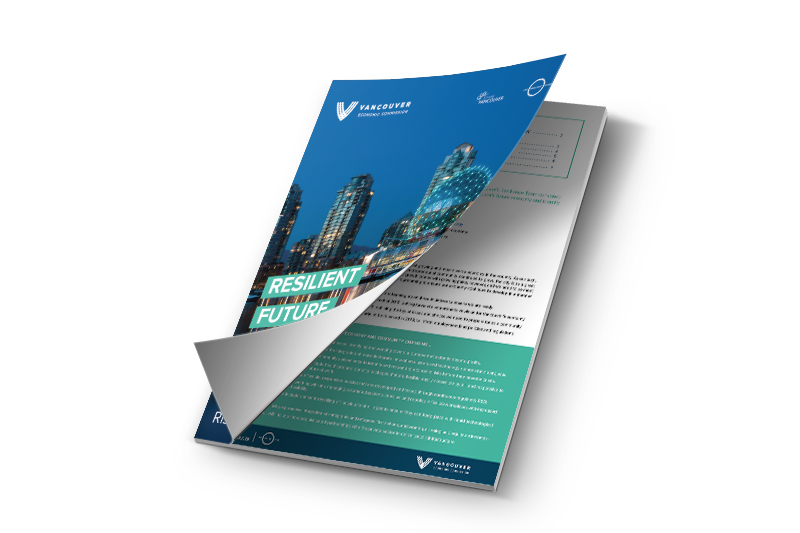 Read the November Summary Report